Event Photo Editing in 5 Simple Steps
Event photography can be incredibly rewarding, but event photo editing can be an equally daunting task.
However, Adobe has a powerful and versatile editing tool that can help you make the most of your pictures – which is Lightroom. In this guide, we'll take you through the steps necessary to edit event photos in Lightroom. 
By the end, you'll be equipped with the knowledge to make the most of your event photos in Lightroom.
The Basics of Event Photo Editing
Basic knowledge required for event photo editing includes understanding the different functions of photo editing software like Lightroom or Photoshop. 
Learning the basics of photo editing can help you achieve better results and make sure that your event photos look stunning.
The reward of Event Photo Editing
The fun thing about event photo editing is that these can be transformed into beautiful pieces of art with careful editing. With a few adjustments, you can add brightness, contrast, and saturation, as well as create different moods. 
You can also remove distractions, blemishes, and other elements that take away from the overall quality of the photo.
Main Challenge of Event Photo Editing
Whereas the 'not-so-fun' or biggest challenge when it comes to event photo editing is getting the right balance between realism and artistic vision. 
It's also important to ensure that any edits you make don't distract from the main subject since there are so many subjects present in an event.
How to Edit Event Photos in Lightroom?
Lightroom is the easiest and most incredibly powerful piece of software from Adobe that can help make the editing process much simpler and more efficient for both novice and expert editors. 
You'll be able to quickly and easily transform your event photos into beautiful and polished works of art. So, let's get started!
Step 1: Download and Install Lightroom
The first step is to download and install the software. You can do this by visiting the Adobe website. Also, you can sign up for a subscription for premium feature access.
Once you have registered, you can log in to your account and download the program. After it is installed, open the software, and you are ready to start editing. 
Step 2: Import Your Photos into Lightroom
Open Lightroom and select the 'Import' option. You'll be prompted to choose the source for your photos. From there, select either the memory card or hard drive that contains your photos.
After selecting the source, you can select either all or specific photos for import. 
Once you hit the 'Import' button, Lightroom will start transferring your photos into the program. This process usually takes a few minutes, depending on the size of your photo library. 
Once the import process is complete, you'll be ready to begin editing your event photos.
Step 3: Choose Your Editing Preset
A preset is a saved combination of adjustments and effects that you can apply to a photo with a single click.
You can find a variety of presets available for download online, or you can create your own. 
Before you begin editing your photos in Lightroom, it is important to decide on the editing preset you want to use. Once you have chosen the preset you want to use, open the 'Preset Browser', select the preset, and click 'Apply'.
This will automatically adjust the image according to the settings specified in the preset. For example, a portrait preset might include adjustments such as contrast, white balance, shadows, and highlights. 
Experiment with different presets to see which one produces the best results for your photos.
Step 4: Edit Your Photos
To start, select the photo you want to edit and click on the 'Develop' tab in the top menu. This will open up the editing tools.
From here, you can adjust your photo's color, exposure, sharpness, highlights, shadows, whites, and blacks. Additionally, you can make precise adjustments to individual areas of your photo with the adjustment brush tool. 
If you want to speed up your workflow, you can choose from various presets available in Lightroom. Finally, if you want to get creative, you can add special effects or filters to your photo. 
Step 5: Export Your Edited Photos
Once you've finished editing your event photos, it's time to export them from Lightroom.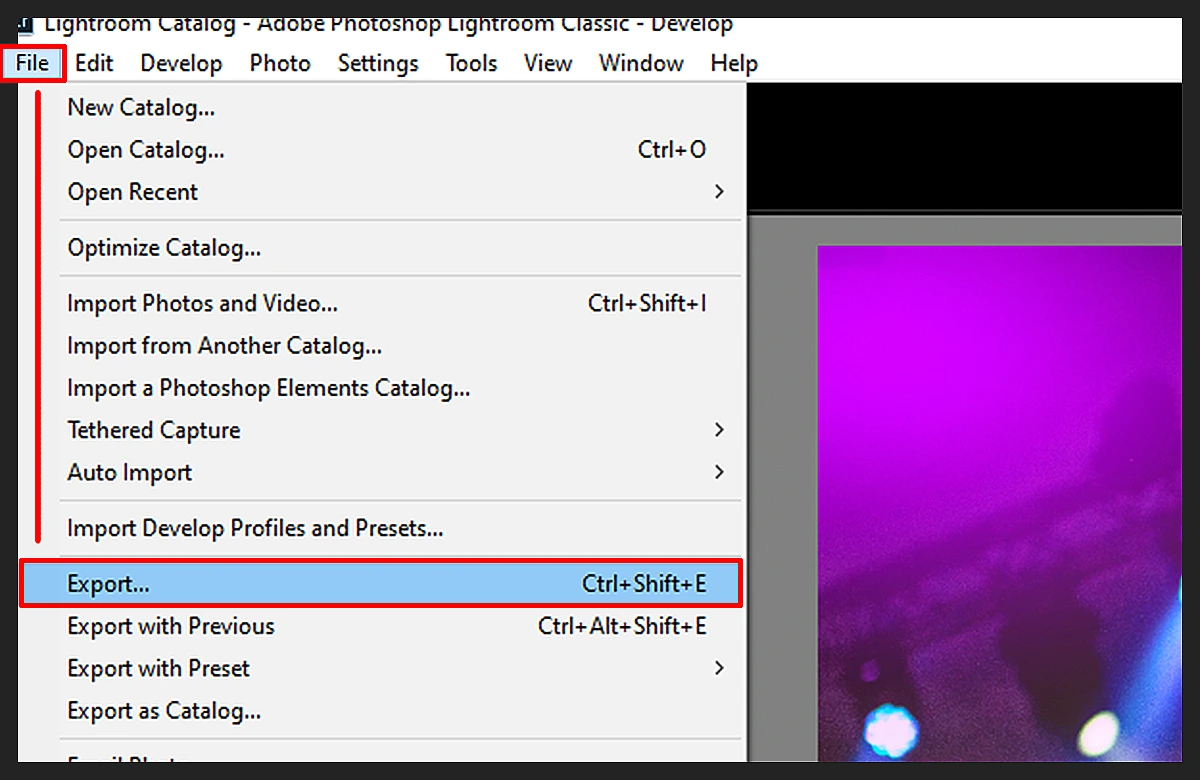 To begin, select the photos you want to export by selecting them in the Library tab. Then, click 'Export' in the menu bar. 
You will be guided to choose the file type and size for the exported photos. Make sure to select a size that meets your needs. After that, specify where you want to save the exported photos and click 'Export.' 
The exporting process may take several minutes, depending on the number of photos you are exporting. When it's finished, you can use the exported photos however you like!
Read more: Wedding Anniversary Photo Frames Editing − Best Software to Use.
Frequently Asked Questions on Even Photo Editing
If you're new to photography, you may have some queries related to event photography editing. We've tried to answer some common ones. 
What are some strategies for corporate event photo editing? 
When editing corporate event photos, think about what colors, lighting, and other elements will best bring out the mood of the event. Make sure to adjust the exposure, contrast, and highlights appropriately. Finally, keep the branding of the company in mind while editing the photos, so they stay true to their style.
What is the best software to edit birthday party photographs?
Adobe Lightroom is an excellent choice for editing birthday party photos. It offers a wide range of tools and presets that allow you to easily create stunning results on any event. You can also use Lightroom's various editing features to further enhance your images and make them truly stand out.
Final Thought
Event photo editing can be a great way to enhance and improve your photos, giving them more impact and making them look their best. 
Not to mention, Lightroom is an excellent choice for editing event photos and can help you create stunning images quickly and easily with its powerful tools, presets, and easy-to-use interface.
(Visited 17 times, 1 visits today)