How To Make A Picture Clear: 7 Successful Tips to Get Started!
We often find ourselves capturing moments with our smartphones or digital cameras. While these devices have made photography accessible to almost everyone, achieving clarity and sharpness in your pictures can sometimes be challenging.
Perhaps you are taking photos for personal enjoyment, professional purposes, or office projects, having clear and crisp images is crucial.
In our guide today, we will delve into the various techniques and tips to help you make your pictures clearer. Also, we will keep it reader-friendly and authentic for you to understand every step.
What is Clarity in Photography?
Before we jump into all the cool stuff that can make your photos awesome, let's talk about what "clarity" really means in photography.
In super simple words, a clear photo is like a superhero of pictures. It's the one that's super sharp, where you can see all the tiny details, and everything looks nice and sharp without getting all fuzzy or weird.
To make your photos into these superhero-level clear pictures, you've got to know some secrets and do some things right. It's like having a special recipe for a delicious cake – you need the right ingredients and steps to make it perfect.
How To Make A Picture Clear?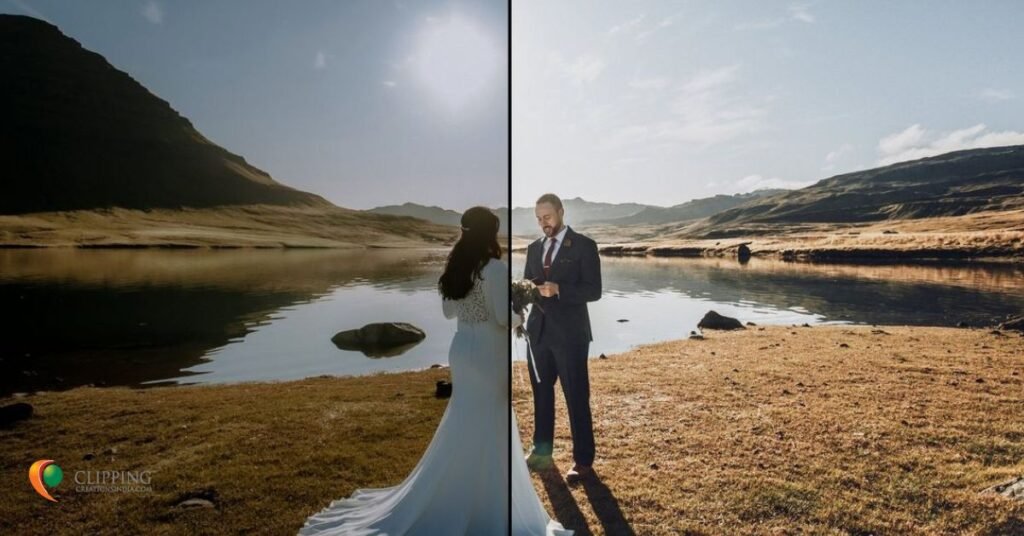 Let's start with the first step to taking awesome, super clear pictures – getting the right gear. Now, you don't need to break the bank and get the fanciest camera out there. But having the right tools makes a big difference.
Picking the Perfect Camera: If you have a real camera, like the ones photographers use, make sure it's got a good lens and sensor. These are like the superhero parts of the camera that help you capture amazing photos. Here are some handsome camera options you can select from.
For Smartphone Users: If you're using your phone to snap pics, don't worry; many phones have fantastic cameras built-in. Look for the ones with multiple lenses, like having different superpowers for your camera. Also, check if it has something called "image stabilization." This feature helps keep your photos clear even when your hand shakes a little.
Why You Need a Tripod: Imagine you're taking a picture, and your hand isn't super steady – that's when you get a shaky photo. A tripod is like a steady stand for your camera. It holds it super still, so your pictures come out looking awesome.
So, remember, whether you're using a camera or your phone, having the right equipment, and using a tripod or some other stabilizer can make your photos look super clear and cool. It's like having the right tools for the job!
1) Lighting is Key
Light is like magic in photography – it can make or break your pictures. If you want your photos to look really clear and great, you've got to know how to use light properly.
Outdoor Magic with Natural Light: When you're taking pictures outside during the day, use the sunlight. Natural light from the sun is like a superhero for your photos. On cloudy days, it's even better because the clouds act like a big, soft blanket that spreads the light evenly. So, your photos come out looking sharp and clear.
Indoor Light Challenges: Now, when you're inside an office or some other indoor place, it can get tricky. The artificial lights there aren't always your photo's best friend. What you need to do is find a spot where there's lots of light, and it's evenly spread out. You don't want strong, direct lights that make weird shadows.
Natural light is your best buddy when you're outside, and indoors, you're like a light detective, looking for the best spot with soft and even lighting. That's the secret to making your pictures look super clear and amazing!
2) Adjust Camera Settings
Okay, so you've got your camera or your phone, and you're all set to take amazing photos. But to make them super clear, you've got to know a few secrets hidden in your camera's settings. Let's uncover them:
Making Sure Your Subject Is Sharp: One of the first secrets is focusing. It's like making sure your camera's superhero eyes are on the right thing.
Most cameras and phones have a clever thing called autofocus. What it does is, when you press the picture button halfway, it makes sure the thing you want to take a picture of is super clear. So, before you take the shot, press the button halfway, and make sure your subject is nice and sharp.
ISO Settings – The Light Booster: Now, let's talk about ISO. Imagine it's like a superhero power that helps your camera see better in the dark. If you're in a place with not much light, you can increase the ISO setting. It's like giving your camera night vision. But be careful, because when you use really high ISO, your photos can get a little noisy, like when you turn up the volume too much on the TV.
In places with lots of light, you can use a lower ISO setting, and your pictures will still look clear and beautiful.
The Aperture, the Light Valve: Last but not least, there's something called aperture. This one is like the camera's superhero eyes adjusting to let in more or less light. If you have a low aperture number, like f/1.8, it's like having big, wide-open eyes that let in lots of light. This is great for when it's a bit dark.
But if you use a higher number, like f/8, it's like having smaller, squinty eyes that need more light. So, when it's super bright outside, this setting is your friend.
These camera secrets will help you take super clear pictures, no matter if you're using a camera or a phone. It's like knowing how to use special tools to make your photos look amazing!
3) Composition and Framing
Now, let's talk about making your photos not only clear but also super good-looking. It's like putting together the perfect puzzle. Here's how you can do it:
The Rule of Thirds: Imagine your photo as a big square, like a window. Now, picture that square divided into nine smaller squares, kind of like a tic-tac-toe board. The Rule of Thirds is a cool trick where you put your main thing, your superhero, along those lines or where they cross.
It's like giving your photo a balanced and exciting look. Instead of putting your subject right in the middle, try placing it at those special spots. It's like decorating a room and putting the best stuff in just the right places.
Follow the Leading Lines: Sometimes, your photo has lines in it – like a road, a river, or even a fence. You can use these lines to guide someone's eyes to what you want them to look at. It's like drawing a secret path with arrows, so people know where to focus.
If there's a road in your picture, you can make it lead to your subject, and it'll make the whole photo look super interesting and clear.
So, remember, when you're taking pictures, think about these tricks like a puzzle. The Rule of Thirds and Leading Lines helps you create pictures that look just right, and everyone will say, "Wow, your photos are amazing!"
4) Post-Processing and Editing
So, you've taken a great picture, and it looks pretty clear, but there's still some magic left to do – it's called post-processing. Post-processing is like adding some final touches to make your photo even more amazing.
Sharpening and Making It Clearer: Imagine you have a superhero with a bit of a blurry costume. You can use photo editing software, like a magic wand, to make those blurry parts look crisp and clear.
You can even choose which parts to make super sharp, like the details on a superhero's outfit. It's like making your photo come to life and look even more fantastic.
Fighting the Noisy Intruders: Sometimes, when you're taking photos in a place with not much light, some little specks can sneak into your photo. We call these specks "noise." It's like dust in your superhero's secret hideout.
But don't worry; you can use noise reduction tools in your editing software to get rid of these specks. It's like cleaning up the superhero's home, so it looks perfect.
So, think of post-processing as the final touch to make your photos even clearer and more stunning. It's like the finishing move that makes your superhero photo truly awesome!
5) Practice and Patience
Remember, taking clear and awesome pictures is like learning a new superpower. The more you practice, the better you get. It's like training to be a superhero – you don't become amazing overnight.
Try Different Things: When you practice, don't be afraid to experiment. That's like trying out different suits and gadgets to see what works best for your superhero job. Take pictures in different ways, test various settings on your camera, and even try shooting in different kinds of light.
Don't Give Up: Now, here's the important part. In the beginning, you might face some challenges, and your photos might not always turn out how you want them. But that's okay. Even superheroes stumble when they're learning their powers. Don't get discouraged – keep going, keep practicing, and you'll get better and better.
So, becoming a photography superhero takes time and practice. Just like your favorite heroes in movies, you'll become a pro with your camera with a bit of patience and lots of practice. Keep clicking those pictures, and you'll see fantastic improvements in no time!
6) Authenticity and Storytelling
Imagine you're learning to ride a bike. When you first start, it's not easy, right? You wobble, you might even fall, but you don't give up. You keep practicing. The more you practice, the better you become.
The same goes for taking clear pictures. At first, your photos might not be perfect. That's okay! Everyone starts somewhere. Try different things, like changing how you take pictures, adjusting the settings on your camera, and taking photos in different types of light.
When things get a little tricky, like when you fall off your bike, don't give up. Just keep going. Even superheroes had to practice to become great, and you can too. Over time, you'll get really good at taking clear and awesome pictures. It's all about practice and not giving up, just like learning to ride that bike!
7) Backup and Organization
Now, when it comes to using photos for your office work, you need to be a bit like a careful librarian. That means you've got to organize and protect your photos so you can find them easily and they stay safe.
Organizing Your Photos: Think of it like putting all your superhero comics in neat piles. You can create folders on your computer or phone to keep your photos organized. For example, one folder for work projects, another for personal stuff, and so on. This way, you'll always know where to find your pictures when you need them.
Backup Your Photos: Imagine if a villain tried to steal your superhero costume. You'd want a backup, right? The same goes for your photos. Use something called cloud storage or external hard drives.
Cloud storage is like a super safe place on the internet where you can keep copies of your pictures. An external hard drive is like a secret vault for your photos that you can hold in your hand. By doing this, you make sure your photos are protected and won't disappear, even if something goes wrong with your computer or phone.
For office work, it's super important to keep your photos organized and safe. Just like a superhero has a secret lair for their special things, you need to have a place to keep your photos secure and easy to find when you need them.
Final Words
In our user-friendly guide, we've explored various aspects of creating clear and crisp pictures for office purposes and beyond.
Remember to choose the right equipment, pay attention to lighting, master camera settings, compose your shots effectively, and consider post-processing. Don't forget the value of practice, authenticity, and proper photo organization.
With these techniques, you'll be well on your way to producing clear and engaging images that serve your office needs effectively. Keep honing your photography skills, and you'll see remarkable improvements in the quality of your pictures.
(Visited 7 times, 4 visits today)