How to Change Landscape to Portrait in  Photoshop, Canva & Gimp?
How to Change Landscape to Portrait? We all know, that the aspect ratio of an image delivers a significant blow.
Landscape and portrait orientations are two of the most common aspect ratios we use in photography and design. While the landscape is ideal for wide scenes and panoramas, portrait orientation fits right to capture vertical subjects or create a more visually appealing composition.
In our article today, we will get into the details of how to change a landscape image to portrait, discussing the technical POV, creative considerations, and the tools required to make this transformation happen.
By the end of our article, you will have a thorough knowledge of the process and be ready to make this adjustment for your office needs.
About Aspect Ratios
Before we know the nitty-gritty of transforming an image from landscape to portrait, it is essential to understand the concept of aspect ratios.
An aspect ratio is the proportional relationship between the width and height of an image. The two most common aspect ratios are 4:3 for portrait orientation and 16:9 for landscape orientation.
Portrait Aspect Ratio (4:3)
This version of cropping is like a secret code for images. It tells you how tall and wide a picture is. In this code, the first number (4) represents the height, which is how tall the picture is, and the second number (3) represents the width, which is how wide the picture is.
When you're taking a picture of a person, you want it good. If you want the picture to make them look great, you often use this special code (4:3). It's like a magic formula that turns the picture into a fine portrait. This means the height of the image is more than the width, making the person in the photo look tall and elegant.
But this ratio isn't just for people; it's also super handy for things like magazines and brochures. When you're reading a magazine or a brochure, you'll see lots of pictures inside in a 4:3 ratio.
So, the Portrait Ratio is a special way to make pictures look great, especially when you're taking photos of people or making things like magazines and brochures. It's like an impressive ingredient that adds that extra touch of elegance to your images.
Landscape Aspect Ratios (16:9)
Another ratio in common crop formats – is the landscape aspect ratio of 16:9. It tells us how wide and tall a picture is. The first number (16) shows how wide the image is, and the second number (9) shows how tall it is.
Think about taking a picture of a wide, beautiful scene, like a vast field or a stunning sunset. When you use this special ratio (16:9), it's like magic. The width of the picture becomes greater than the height. This makes the landscape look really wide and impressive in the photo.
But it isn't just for landscapes; it's perfect for things like TVs and computer screens. You know those big screens where you watch your favorite shows or play video games?
Well, many of them use the 16:9 ratio too. It's because this code fits perfectly with the shape of these screens, making everything look awesome.
The Landscape Aspect Ratio (16:9) offers a serene atmosphere to your landscapes. This ratio is also effective when you're capturing wide views or using TVs and monitors.
How to Change Landscape to Portrait? The Right Software!
You'll need image editing software to change a landscape image to a portrait. There are many options available, from professional-grade software like Adobe Photoshop to more user-friendly and free alternatives like GIMP (GNU Image Manipulation Program) or online tools like Canva.
Adobe Photoshop: This software offers the most comprehensive set of tools for image manipulation. It's suitable for professionals and those who require the highest level of control over their images.
GIMP (GNU Image Manipulation Program): GIMP is a powerful open-source image editing software that is free to use. It's a great choice for users who want advanced features without the cost of Adobe Photoshop.
Canva: Canva is an online platform that provides a user-friendly interface for image editing. It's ideal for those who want a quick and easy way to transform images.
You can use the following tools to convert between the aspect ratios and let it work. The next part will teach you about image resizing.
Do I Need to Resize the Image?
The first step in changing a landscape image to a portrait is resizing it. Remember that when you change the aspect ratio, some parts of the image might be cropped or stretched, which can affect the overall composition.
Here's how to do it,
In Adobe Photoshop:
Open your image in Photoshop. Go to "Image" > "Image Size." In the "Image Size" dialog, uncheck the "Constrain Proportions" box. Change the height to a larger value than the width. This will make your image portrait-oriented. Click "OK" to apply the changes.
In GIMP:
Open your image in GIMP. Go to "Image" > "Canvas Size." Adjust the height to be greater than the width. Click "Resize" to make the canvas portrait-oriented.
In Canva:
Upload your image to Canva. Select the image on your canvas. Click and drag the corners to reshape the image into a portrait orientation.
Here are a few short tips to resize the images with the following applications, in short. Learn details on how to resize an image in Photoshop.
Once you have resized your image, the next thing you need to do is, rearrange content. Continue reading,
Content Rearrangement
Once you've resized your image, you might notice that the content isn't arranged as you'd like. Some elements may be cut off or not centered correctly. In this step, you'll need to rearrange and reposition the content to achieve a visually pleasing composition.
In Photoshop and GIMP, you can use the "Move" or "Transform" tool to adjust the position of elements within the image. For Canva, simply drag and drop to reposition the image elements.
Extend the Backyard
If your landscape image had a wide background and you've resized it to portrait orientation, you might need to extend the background to fill the empty space. This is particularly important when you're planning to use the image in a design where the background is essential.
To Extend The Background
In Photoshop And Gimp:
Use the "Clone Stamp" tool to sample and replicate parts of the existing background to fill the empty areas.
You can also use the "Content-Aware Fill" tool in Photoshop to automatically generate background content.
In Canva:
Canva provides a simple "Background" tool that allows you to extend or change the background color as needed.
Finally! The Last Work
After you've resized, rearranged, and extended the background, it's time to make final adjustments to ensure your image looks its best in portrait orientation. This includes tweaking the colors, contrast, brightness, and any other aspects to enhance the overall visual appeal.
In Photoshop and GIMP, use the various adjustment layers and filters to make color and tone adjustments. In Canva, explore the "Effects" tab to adjust brightness, and contrast, and apply filters.
Once you're satisfied with the changes, save your image in the desired format. Be sure to keep the original landscape version in case you need it in the future.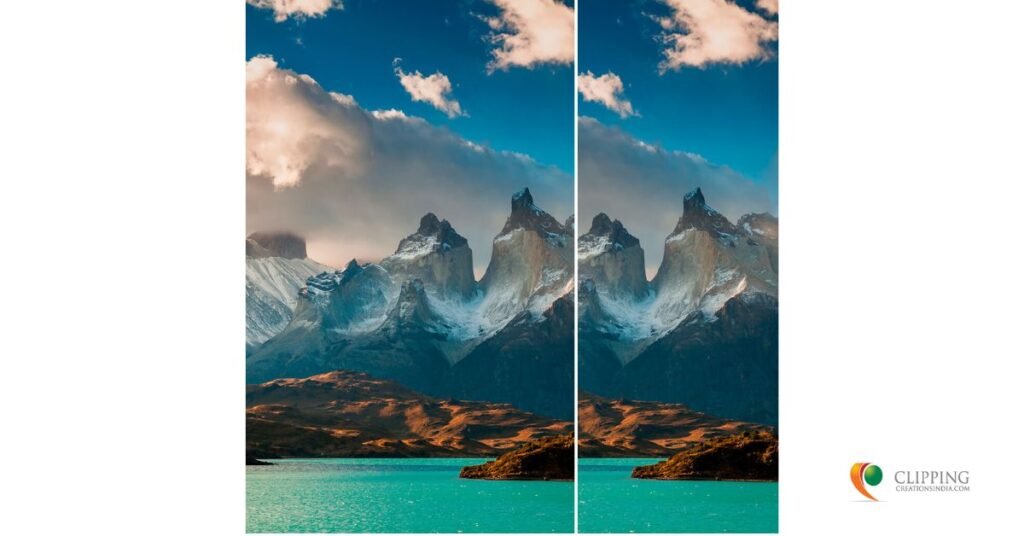 Bonus: Useful Tips
Changing a landscape image to a portrait is not just a technical process; it's also a creative one. Here are some creative considerations to keep in mind:
Subject Placement: Ensure your subject remains the focal point of the image, even in portrait orientation.
Composition: Pay attention to the rule of thirds and other composition guidelines to create a balanced and visually appealing image.
Color and Mood: Adjust the colors and tones to evoke the desired mood for your office content.
Text and Graphics: If you plan to overlay text or graphics on the image, leave space for them in your composition.
Author's Note
To learn how to change landscape to portrait, is a valuable skill for office purposes, whether you're creating presentations, marketing materials, or simply want to optimize your visuals for a vertical format.
With the right software and an understanding of the technical and creative aspects involved, you can transform your images effectively and create engaging content that resonates with your audience.
So, go ahead and experiment with your landscape images to unlock their full potential in portrait orientation.
(Visited 6 times, 3 visits today)