Ghost Mannequin Clothing Photography: A Detailed Guide to Help You
Have you ever wondered how clothing brands manage to make their products look perfect and appealing in their catalogs and online stores? The answer lies in a fascinating photography technique called "ghost mannequin clothing photography."
In our comprehensive guide today, we will explore what ghost mannequin photography is, how it works, its benefits, and how you can use it to elevate your product photography game.
What is Ghost Mannequin Photography?
Ghost mannequin photography, also known as invisible mannequin or hollow man photography, is a specialized technique used to create stunning, lifelike images of clothing and apparel without the need for a live model.
The goal is to showcase the fit, design, and details of clothing items in a way that captivates potential customers.
In ghost mannequin photography, a combination of mannequins and post-production editing techniques are used to create the illusion that a garment is being worn by an invisible model.
The final result is a visually appealing image that highlights the clothing's features, making it more enticing to potential buyers.
How Does Ghost Mannequin Photography Work?
The process of creating ghost mannequin photos involves several key steps. Follow the steps with us to master the hidden tricks of neck joint photography.
Step 1: Preparation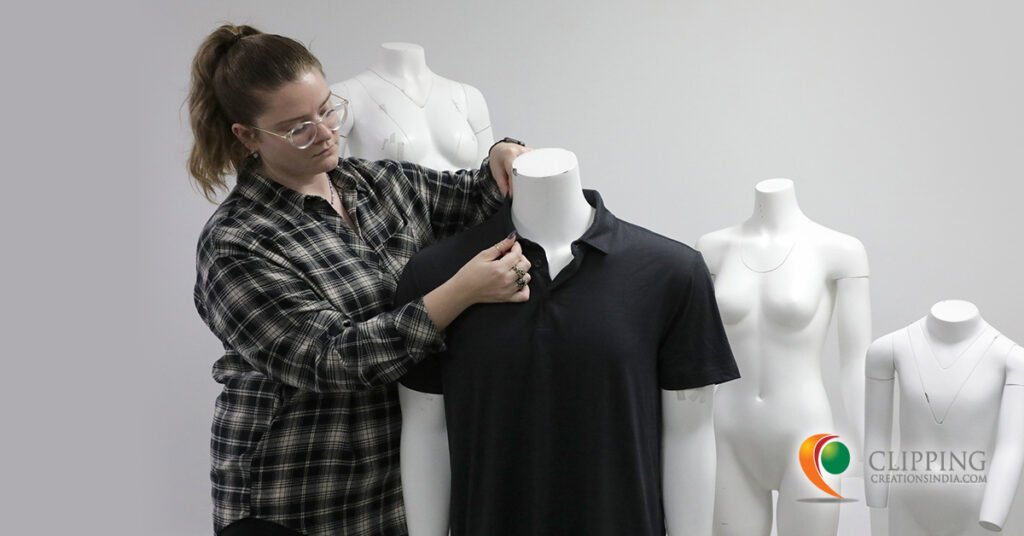 First, you have to set a number of prerequisites and ensure you follow them. They are,
Choose the Right Mannequin: A well-fitted mannequin that matches the clothing's size and shape is essential. Also, mannequins are available in different size and shapes. Make sure you get the mannequin of right size and also right gender.
Prepare the Mannequin: Carefully put the clothing on the mannequin, ensuring it fits perfectly and looks natural. Look for any fold and fix them if necessary.
Set up your studio: Create a controlled environment with proper lighting and a clean background to eliminate distractions.
Step 2: Capture the Images
Once you have set up the mannequin in the ideal position, it's time to take some shots. Follow the next few steps with us.
Take Multiple Shots: Photograph the front, back, and inner sides of the garment, as well as any unique details or features. Use light from different angles too and experiment with your shot.
Use a Tripod: Steady your camera to ensure consistent framing and alignment in all shots.
Maintain consistent lighting: Even lighting is crucial to avoid shadows and color discrepancies.
Step 3: Post-Production Editing
A successful product photoshoot doesn't only involve capturing the photo. You also have to focus on the post-production to deliver standard output.
Image Cropping: Remove any unwanted elements from the photos, such as parts of the mannequin or background.
Image Retouching: Adjust brightness, contrast, and color balance to ensure the clothing looks its best. Take a look here.
Ghosting Effect: Skilled photo editors will use techniques to seamlessly merge multiple shots to create the illusion of an invisible model wearing the garment.
Step 4: Final Output
Export the edited images in the desired format and resolution suitable for your online store or catalog.
What Are the Benefits of Ghost Mannequin Photography?
Ghost mannequin photography offers several advantages for clothing brands and online retailers:
Cost-Effective:
Ghost mannequin photography saves money because you don't need to hire real models. Models can be expensive, and you might need many of them for various clothing items. With ghost mannequins, you make one-time purchases of mannequins and photography equipment, saving on ongoing model fees.
Consistency:
Ghost mannequins help maintain a consistent look for your product images. When you use real models, different poses, facial expressions, and body shapes can make your product photos inconsistent.
With ghost mannequins, every image looks the same, creating a cohesive and professional appearance for your brand.
Focus on Details:
It also allows you to highlight the small details and features of your clothing items. You can showcase things like intricate stitching, unique buttons, or special patterns more effectively. This attention to detail can help customers understand the quality and design of your products.
Versatility:
This technique works well for a wide range of clothing and accessories. Whether you're selling shirts, dresses, hats, or gloves, you can use ghost mannequin photography to make them look their best. It's adaptable to various types of fashion items.
Time Efficiency:
Ghost mannequin photography is often faster than arranging photo shoots with live models. You can set up the mannequins and take multiple shots in less time. This efficiency allows you to showcase new products more quickly and keep your catalog up to date.
Professional Appearance:
You can offer your brand a professional and polished image with ghost mannequin photography. High-quality images can attract more customers and convey trustworthiness. When your product images look well-organized and consistent, it can enhance your brand's reputation.
In simple terms, ghost mannequin photography saves money, makes your product photos look consistent and professional, helps focus on product details, works for a wide range of items, saves time, and improves your brand's overall appearance. It's a valuable technique for clothing brands and online retailers.
Tips for Successful Ghost Mannequin Photography
To achieve stunning ghost mannequin photos, consider these tips:
Choose the Right Equipment:
To start, it's essential to have the right equipment. A good digital camera that allows manual settings will give you control over your photos. Using a tripod keeps your camera steady and your images sharp. Standard zoom lenses are typically suitable for most clothing shots.
Select the Proper Mannequin:
Picking the right mannequin is crucial. It should closely match the size and shape of the clothing you're photographing. This ensures a proper fit and a natural look. Additionally, opt for a mannequin in a neutral color like white, gray, or beige to avoid color distractions in your photos.
Attention to Detail Matters:
Paying attention to details can make a big difference in your photos. Before dressing the mannequin, steam or iron the clothing to remove any wrinkles or creases. Ensure that the clothing fits the mannequin properly and looks well-arranged. Neatly arrange elements like buttons, zippers, and collars for a polished appearance.
Get the Lighting Right:
Lighting plays a significant role in photography. Use soft, diffused lighting to avoid harsh shadows on your clothing. Position your light sources at angles to the mannequin to bring out its three-dimensional shape and highlight textures.
Adjust Camera Settings:
Shooting in manual mode gives you full control over your camera settings. Adjust the aperture (f-stop) to control the depth of field, allowing you to choose between a blurred background or sharp focus. Keep your ISO setting moderate (usually between 100-400) to avoid graininess. Set your shutter speed to eliminate camera shake, typically above 1/125 seconds.
Framing and Composition:
Pay attention to how you frame your shots. Position your camera at the same height as the mannequin's chest or head. Keep the mannequin centered in the frame, and fill the frame with the clothing. Consistency in angles for front, back, and side shots is essential to create a cohesive look for your catalog.
Use a Remote Shutter or Timer:
To prevent camera shaking when taking photos, consider using a remote shutter release or your camera's built-in timer. This way, you can capture images without touching the camera, ensuring sharp results.
Post-Production Editing:
After capturing your photos, post-production editing is vital to achieve the ghost mannequin effect. Using photo editing software, remove the background and any distracting elements from the images. Adjust brightness, contrast, and color balance to enhance the clothing's appearance. Lastly, merge the front and back shots seamlessly to create the illusion of an invisible model wearing the garment.
Practice and Patience:
Ghost mannequin photography may take some practice to master. Experiment with different camera settings and lighting setups to find what works best for your products. Be patient with the editing process, as it can be time-consuming, but it's crucial for achieving a professional result.
By following these detailed yet straightforward tips, you can elevate your ghost mannequin photography and create compelling images that effectively showcase your clothing products.
Common Mistakes to Avoid in Ghost Mannequin Photography
Ghost mannequin photography can be challenging, and there are some common mistakes to watch out for:
Poor Editing: Rushed or inexperienced photo editing can result in a sloppy ghosting effect. Quickly editing your photos without care can make them look unnatural and unprofessional.
Inconsistent Lighting: Uneven lighting can make the final images look unprofessional. Also, harsh lighting can create shadows and color differences on your clothing.
Incorrect Mannequin Size: Using the wrong-sized mannequin can lead to ill-fitting clothing. If you use a mannequin that doesn't fit the clothing well can make it look awkward.
Neglecting Details: Failing to pay attention to small details like buttons, zippers, and seams can impact the overall quality.
Over-Editing: Avoid excessive editing, as it can make clothing look unnatural and unappealing. You can edit your photos gently to enhance them without going overboard.
Poor Equipment: Don't use poor-quality cameras or lighting as it can result in bad photos.
Pre-operation: Not dressing the mannequin properly or arranging clothing asymmetrically can make it look weird.
By avoiding these simple mistakes, you can create impressive ghost mannequin photos that effectively display your clothing products and attract customers.
Ghost Mannequin Photography in eCommerce
Ghost mannequin photography plays a significant role in eCommerce by helping online retailers showcase their clothing products effectively. In simple terms, it's a technique where mannequins are used to make clothes look like they're worn by invisible models. This method has become a game-changer in online fashion sales because it offers various advantages.
Benefits for eCommerce
One of the biggest advantages is cost-effectiveness. Hiring real models for every clothing item can be very expensive. Ghost mannequin photography eliminates the need for models, reducing costs and making it easier for small businesses to compete.
Consistency is another key benefit. In eCommerce, you want your product images to look consistent. With real models, different poses and body shapes can make images vary greatly. Ghost mannequins provide a consistent and professional look across your product catalog.
Focusing on Details is crucial in the fashion industry. Customers want to see the stitching, buttons, and other fine details of clothing. Ghost mannequin photography allows you to highlight these details clearly.
Versatility is also important. You can use this technique for a wide range of clothing and accessories, from shirts and dresses to hats and gloves. It's adaptable to various types of fashion items.
Time efficiency is a significant advantage. Ghost mannequin photography is often faster than arranging photo shoots with live models. This means you can showcase new products more quickly and keep your online store up to date.
Building a Strong Brand Image
In eCommerce, creating a professional brand image is vital. Ghost mannequin photos can help with this. They provide a polished and cohesive look to your product catalog or website. When your products look organized and consistent, it builds trust among your customers.
SEO Benefits
Another advantage is the potential for better search engine rankings. High-quality images can improve your website's SEO, driving more organic traffic. When your images look good and professional, search engines are more likely to rank your pages higher.
Ghost mannequin photography is a powerful tool for eCommerce. It saves money, provides consistency, highlights product details, and works for various clothing items. By using this technique, you can create a strong brand image, attract more customers, and improve your website's visibility in search engines. It's a valuable strategy for online fashion retailers looking to stand out in a competitive market.
Ghost Mannequin Photography: DIY vs. Professional Services
While it's possible to attempt ghost mannequin photography on your own, there are benefits to hiring professional services:
DIY:
Doing ghost mannequin photography yourself can be cost-effective, especially if you're on a tight budget. You can purchase a mannequin, and camera equipment, and set up a small photography space in your home. This DIY approach allows you to have full control over the process.
However, there are some challenges to consider. DIY ghost mannequin photography requires time and patience. You'll need to learn the techniques, invest in equipment, and become skilled in photo editing. It can take some trial and error to get the desired results, especially if you're new to photography and editing.
Key Benefits:
Lower initial cost
Greater control over the process
Learning opportunity for improving photography skills
Professional Services:
Professional services like Clipping Creations India for ghost mannequin photography offer expertise and convenience. When you hire professionals, they already have the equipment, knowledge, and experience needed to create high-quality images. This can save you time and ensure top-notch results.
Professional services also provide consistency. They have the skills to make sure all your product images look cohesive and professional, maintaining your brand's identity. This is crucial for creating a trustworthy and appealing online store.
However, it's essential to note that professional services come at a cost. You'll need to budget for photography fees, which can vary based on the number of products you have. Additionally, you may need to coordinate with the professionals, which can take some time.
Key Benefits:
Expertise and experience
Time savings
Consistently high-quality results
Ultimately, the choice between DIY and professional services depends on your budget, time constraints, and the quality standards you aim to achieve.
Last Words
Ghost mannequin photography is a powerful tool for clothing brands and online retailers looking to showcase their products effectively. With the right equipment, attention to detail, and post-production editing, you can create stunning images that captivate your audience and drive sales. Whether you choose to go the DIY route or hire professionals, mastering this technique can significantly benefit your eCommerce business.
Incorporating ghost mannequin photography into your product presentation strategy can help you stay competitive, build a strong brand identity, and provide an exceptional shopping experience for your customers. So, why wait? Start experimenting with ghost mannequin photography and take your product images to the next level today!
(Visited 3 times, 1 visits today)