Clothing Brand Photoshoot Ideas: Successful Tips to Draw Customers
When it comes to showing off your clothing brand's cool styles and unique personality, clothing brand photoshoot ideas are your superpower!
They're like fashion adventures where you get to capture your clothes in all their glory. If you're ready to make your brand stand out and catch everyone's eye, here are some fun and easy clothing brand photoshoot ideas that will make your clothes pop!
7 Clothing Brand Photoshoot Ideas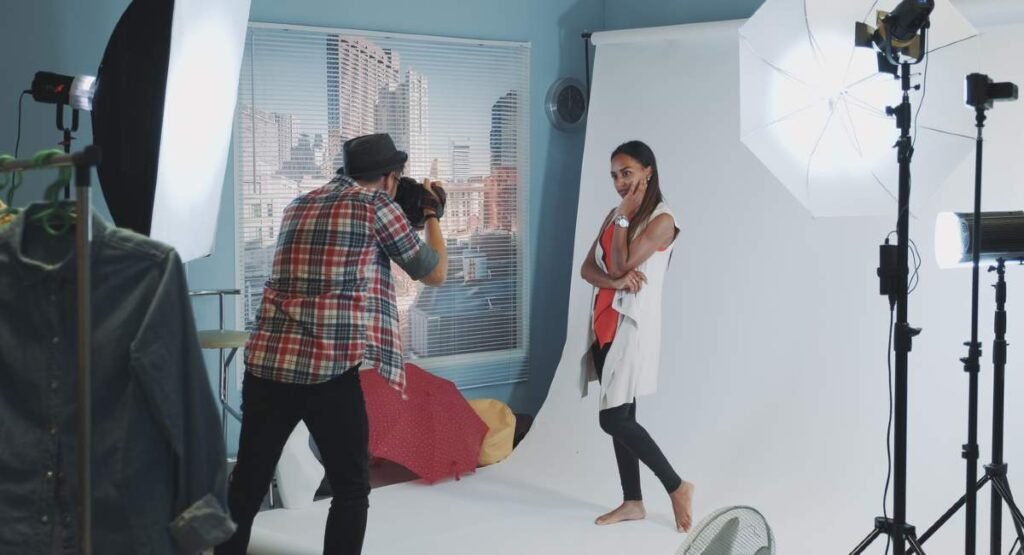 Photoshop invites customers to step into a world of fashion fantasies. When it comes to clothing, a photo shoot is the ultimate window to your consumers. Here are the 7 best clothing brand photoshoot ideas to revamp your clothing business.
1. Outdoor Magic:
Why stay inside when you can step into the great outdoors? Find a pretty park, a sunny beach, or even a colorful city street to show off your clothes.
Natural light and fresh air make your clothes look super bright and real. Plus, you can snap pics of your models laughing, twirling, and having a blast in your outfits.
2. Throwback Time:
Ever wondered what it's like to go back in time? Well, your clothes can take you there! Pick a time in history, like the 70s with disco vibes or the 90s with grunge and neon.
Dress up your models in outfits from that era and use props that match. Your photos will have a cool vintage touch that everyone will love.
3. Simple and Clean:
Sometimes, less is more. Choose a clean, plain background, and let your clothes do all the talking. No fancy stuff – just pure fashion!
This style works great if your clothes have cool patterns or unique details. People will focus on the outfits and see how awesome they are.
4. Mix of Cultures:
Let's celebrate the world's beauty by blending different cultures in your photoshoot. Choose clothes inspired by different countries and mix them together. The result? A fantastic fusion of styles that'll connect with people from all over the globe.
5. City Streets and Cool Beats:
Show that your clothes are perfect for the urban scene. Find a busy street, a cool graffiti wall, or even a rooftop with a killer view.
Dress your models in trendy, street-style outfits and capture the energy of the city. This style works if your brand is all about modern and edgy fashion.
6. Fantasy Fun:
Wanna dive into a world of magic? Create a fantasy-themed shoot! Think about flowy dresses, mysterious woods, and dreamy settings. You can add cool effects like sparkles or mist to make your photos look like they're from a fairy tale.
7. Everyday Adventures:
Guess what? Your clothes are awesome for everyday life too! Take pics of your models doing simple stuff like hanging out in a coffee shop, strolling in the park, or reading books at the library.
People will see that your clothes are not just for special occasions but for making every day a little more stylish.
Quick Tips for Cloth Photoshoots Included
Taking photos of clothing from the right angles is crucial to showcase its design, fit, and details effectively. Here are some angles to consider for better clothing photoshoot outcomes:
1. Front View:
The front view is the most common angle for clothing photos. It provides a clear and direct view of the outfit's design, color, and overall look. Make sure the garment is well-centered in the frame, and capture any unique patterns, textures, or embellishments.
2. Back View:
Showcasing the back of the garment is equally important. This angle lets customers see any back details like zippers, buttons, cutouts, or other design elements that might be hidden from the front view.
3. Side Profile:
Taking a side profile shot is particularly useful for showing the silhouette and fit of the clothing. This angle can highlight how the garment drapes and flows, providing viewers with an idea of how it would look when worn.
4. Three-Quarter View:
Position the garment at a slight angle between the front and side view. This angle can help display the depth and dimension of the clothing, giving a more dynamic perspective than a straight-on shot.
5. Close-Up Shots:
Don't forget to capture close-up shots of important details like buttons, stitching, embroidery, or unique fabric patterns. These shots give customers a better understanding of the garment's quality and craftsmanship.
6. Styled Shots:
Include images of the garment being worn by a model or mannequin in a realistic setting. This helps potential buyers visualize how the clothing would look on them and how it can be styled with other pieces.
7. Action Shots:
For activewear or clothing designed for movement, consider capturing action shots. Show the clothing in motion – whether it's a model running, jumping, or stretching – to demonstrate its comfort and flexibility.
8. Accessories and Pairing:
If your clothing is meant to be worn with specific accessories (e.g., belts, scarves, hats), include shots that show how they complement the outfit. This gives customers ideas for complete ensembles.
9. Flat Lay:
Lay the clothing flat on a surface and shoot from directly above. This is great for showcasing patterns and prints, and it's commonly used for accessories like scarves, bags, and shoes.
10. Over-the-Shoulder Shots:
Capture images from behind the model's shoulder, looking towards a mirror. This angle provides a glimpse of how the clothing looks from the back while also showing how it looks on the wearer.
Remember, lighting plays a crucial role in capturing clothing accurately. Use natural light or soft studio lighting to avoid harsh shadows and ensure the colors are true to life.
Experiment with different angles to find what works best for your clothing line's style and message, and don't hesitate to get creative to make your clothing photos stand out.
Last Words
There you have it – a bunch of exciting and simple clothing brand photoshoot ideas that'll make your brand shine.
Remember, the key is to have fun and let your brand's personality come through in every shot. Whether you're in the great outdoors, rocking a vintage vibe, or bringing fantasies to life, these photoshoot ideas will help your clothes steal the spotlight and capture the hearts of fashion lovers everywhere!
For more, stay in touch with us! And get your free trial today!
(Visited 4 times, 1 visits today)