How to Do 360 Product Photography: Enter the Evolution
Captivating visuals play a crucial role in attracting potential customers and converting leads into sales. And, who doesn't want to make more money? It starts with one question! How to do 360 product photography?
360 product photography is one such powerful visual marketing tool that allows shoppers to interact with products from all angles, replicating the in-store experience online.
In this article, we will dive into the step-by-step process of creating stunning 360-degree product photography that will set your online store apart and boost customer engagement.
What is 360 Product Photography?
360 photography, also known as 360-degree photography, is a specialized technique that captures images of a scene or subject from all angles, providing a complete view in a seamless and interactive manner.
It allows viewers to explore the entire surroundings or object by virtually rotating the image horizontally or vertically. This immersive experience replicates the feeling of being physically present in the captured location or allows a comprehensive examination of a product.
The process typically involves using specialized cameras equipped with fish-eye lenses to capture multiple images covering the entire field of view.
These images are then stitched together using specialized software to create a panoramic view. 360 photography finds applications in various fields, including virtual tours for real estate listings, interactive product displays for e-commerce websites, and immersive experiences in virtual reality (VR) applications.
Its ability to engage audiences and offer a more interactive and dynamic visual experience makes it a valuable tool for modern marketing and storytelling.
How To Do 360 Product Photography?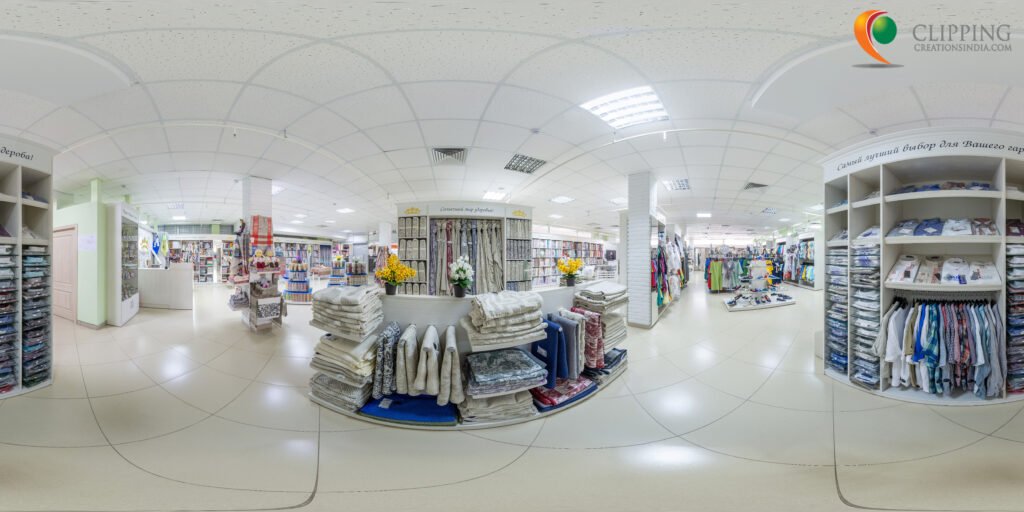 360 product photography requires careful planning, the right equipment, and a systematic approach to achieve professional-grade results. Follow these step-by-step instructions to master the art of 360 product photography:
1. Equipment Preparation:
Camera: Use a DSLR or mirrorless camera with manual settings to have control over exposure and focus.
Tripod: A sturdy tripod is essential to keep the camera stable during the entire shooting process.
Turntable: Invest in a motorized turntable to rotate the product smoothly and consistently.
Lighting Setup: Set up a diffused lighting system to avoid harsh shadows and ensure uniform illumination.
White or Neutral Background: Choose a clean, uncluttered background that won't distract from the product.
2. Product Preparation:
Clean the product thoroughly to remove dust, fingerprints, or any imperfections that might be visible in the images. Assemble the product correctly if it requires any assembly before shooting.
3. Shooting Area Setup:
Choose a controlled environment with enough space to accommodate the product, turntable, and lighting setup. Then, set up the turntable at the center of the shooting area, ensuring it is level and stable. Position the camera on the tripod, keeping it at the same level as the product.
4. Camera Settings:
Set your camera to manual mode to have full control over exposure settings. You can use an aperture between f/8 to f/11 to balance depth of field and sharpness.
Don't forget to adjust ISO and shutter speed to achieve a well-exposed image without overexposure or underexposure. Ensure the white balance is correct to maintain accurate colors.
5. Framing the Shot:
You are now in the crucial step of 360-degree product photography. Frame the shot to capture the entire product within the viewfinder. Use manual focus to keep the product sharp throughout the shooting process.
6. Capture the Images:
Start the turntable rotation and trigger the camera using a remote shutter release. Then, take images at regular intervals (e.g., every 10 degrees) as the product rotates. Aim for at least 36 images for a smooth 360-degree view, but more images can provide better quality.
7. Image Post-Processing:
Transfer the images to your computer for post-processing. Use photo editing software to crop, align, and optimize the images.
Pay attention to any imperfections or stitching errors and correct them as needed.
8. Create the 360 Product View:
Use specialized 360 image editing software or online platforms to create an interactive 360-degree view.
These tools will stitch the images together to provide a seamless rotation experience.
9. Embed the 360 Product View:
Once the 360 product view is ready, embed it on your e-commerce website or online store. Ensure it is easily accessible and compatible with various devices, including desktops, laptops, and mobile devices.
10. Testing and Refinement:
Test the 360 product view on different devices and browsers to ensure a smooth and glitch-free experience. Make any necessary adjustments to enhance image quality or user experience.
By following these steps, you can create captivating 360 product photography that will set your online store apart, engage customers, and boost sales.
Remember that practice and attention to detail are key to achieving impressive results in this visually immersive technique.
How 360 Photography Affects the Industry?
360 photography has significantly impacted the photography industry, revolutionizing the way businesses and consumers interact with visual content.
Its unique immersive experience has brought about several positive changes and opportunities, benefiting both photographers and end-users alike.
Let's explore some of the major impacts of 360 photography in the photography industry:
1. Enhanced Product Presentation:
In the e-commerce sector, 360 product photography allows businesses to showcase their products in a more engaging and interactive manner. Customers can rotate and view products from all angles, simulating an in-store experience online.
This has led to increased customer satisfaction, reduced return rates, and ultimately higher conversion rates for businesses.
2. Virtual Tours and Real Estate Marketing:
In the real estate industry, 360 photography has transformed the way properties are showcased. Virtual tours offer potential buyers an immersive experience, allowing them to explore every room and corner of a property remotely.
This technology has made real estate marketing more efficient and effective, saving time for both buyers and sellers.
3. Interactive Advertising and Marketing Campaigns:
Brands have embraced 360 photography in their advertising and marketing efforts. Interactive and immersive campaigns capture the attention of consumers and provide a memorable brand experience.
It allows companies to stand out in a competitive market, leading to better brand recall and customer engagement.
4. Advancement in Virtual Reality (VR) and Augmented Reality (AR):
360 photography has played a pivotal role in the development of VR and AR technologies. High-quality 360 images serve as the foundation for creating virtual reality environments and augmented reality overlays.
This has opened up new avenues for entertainment, training, education, and experiential marketing.
5. Photography Innovation and Technology Advancements:
The demand for 360 photography has driven the development of advanced camera systems, software tools, and stitching algorithms. This has led to improvements in image quality, ease of use, and accessibility of 360 photography equipment and techniques.
6. Diverse Applications in Various Industries:
The applications of 360 photography are not limited to e-commerce and real estate. It has found uses in industries such as tourism, hospitality, education, automotive, and more.
The ability to create immersive experiences has expanded the horizons of how businesses engage with their audiences.
7. Increased Demand for Professional Photographers:
As the popularity of 360 photography grows, businesses seek skilled photographers to produce high-quality and visually appealing 360 content. This has created new opportunities for photographers, requiring them to specialize in this niche and expand their expertise.
8. Positive Impact on Consumer Decision-making:
Studies have shown that 360 photography influences consumer behavior positively. By providing a more comprehensive view of products or environments, it builds trust, reduces uncertainty, and encourages confident decision-making in customers.
In short, 360 photography has revolutionized the photography industry by offering interactive and immersive visual experiences. Its impact can be seen in various sectors, from e-commerce and real estate to advertising and entertainment.
As technology continues to evolve, we can expect 360 photography to play an even more significant role in shaping how we perceive
Start 360 Product Photography Today!
Starting 360 photography can be an exciting venture that opens up new creative and business opportunities. Follow these steps to embark on your journey into the world of 360 photography:
Research and Learn: Begin by researching 360 photography techniques, equipment, and software. Familiarize yourself with different camera systems, lens options, and post-processing tools.
Take online courses, watch tutorials, and read articles to understand the intricacies of capturing and stitching 360 images.
Acquire the Right Equipment: Invest in a suitable camera capable of capturing 360 images. You can choose between DSLRs with fish-eye lenses or specialized 360 cameras.
Get a sturdy tripod to maintain stability during shooting, and consider a motorized turntable for product photography.
Master Shooting Techniques: Practice capturing 360 images in various settings. Experiment with exposure settings, white balance, and manual focus to achieve optimal results. Understand the importance of consistent lighting and composition to create seamless 360-degree views.
Last Words
360 product photography is a powerful tool to enhance customer engagement, boost conversion rates, and provide a more immersive online shopping experience.
By following this comprehensive guide, you can master the art of 360-degree product photography and take your e-commerce business to new heights.
Embrace the interactive potential of this technique, and watch your products come to life for your customers in ways that static images simply can't achieve.
Stay tuned with us and check out our daily blog for more! Happy shooting!
(Visited 9 times, 9 visits today)