Guide to Using Blood Brushes for Photoshop: Everything You Need to Know
With all the shadows, lack of brightness, and low contrast, horror-themed images can be tiresome to edit. Especially when there's blood involved.
Using blood brushes for Photoshop may seem similar to stroking a paintbrush, but these types of brushes need extra attention.
Blood brushes have their own set of rules. They need to be downloaded in a certain way, used according to the type of content they're intended for, and require retouching after use.
Fortunately, we have all this info compiled for you in the following article. Be sure to check out the FAQ section if you still have unanswered queries. 
What Are Blood Brushes Used for in Photoshop?
Blood brushes are a set of brushes in Adobe Photoshop, downloaded as add-ons that replicate the color, texture, and appearance of blood splatters, stains, or spills. 
In Photoshop, there are numerous brush presets that are already available to use and mimic different patterns such as footprints, trails of leaves, snowflakes, and even shadows. Blood splatters are another set that needs to be downloaded separately.
These blood brushes vary according to the source they are downloaded from and usually mimic realistic blood splashes. The brush tool itself helps the user to locate the splash carefully to its desired spot with minimal editing. 
Blood brushes are often used for the following purposes in Photoshop −
Making horror/crime-themed imagery

Halloween content

Horror/thriller cover art for books, music, movies, etc.

Make-up looks

Thumbnails for videos, documentaries, short films, etc. (found on YouTube)
How to Download Blood Splatter Brush Photoshop?
It's unlikely to find a blood splatter brush preset sitting in your Adobe Photoshop panel. As with other texture and pattern brushes, you'll have to download them separately and install them. 
Here is a step-by-step tutorial on how to get ahold of these brushes−
Step 1 – Look for Blood Splatter Brushes Online
All you need to do for this step is to simply look up "blood splatter brushes for Photoshop", and you'll find a wide variety of sites to download different brush sets to choose from. 
When downloading brushes, it's recommended to keep the following in mind− 
Don't download or install anything from a site that is not secure.

The brush set should be applicable to your version of Photoshop. 

Most brush sets have to be paid for, so keep your credit card and bank info safe. 

Make sure to run a security scan on your brush set file in case of malware. 

Download brush sets that are exclusively

photoshop brushes

, as brush sets for Procreate or Ibispaint may also appear.
Step 2 – Install Your Brushes on Photoshop
Launch Photoshop and go to the Brushes panel. Click on the Hamburger menu and then click 'Import Brushes.' Now, you should be able to locate your downloaded ABR brush set file and open it.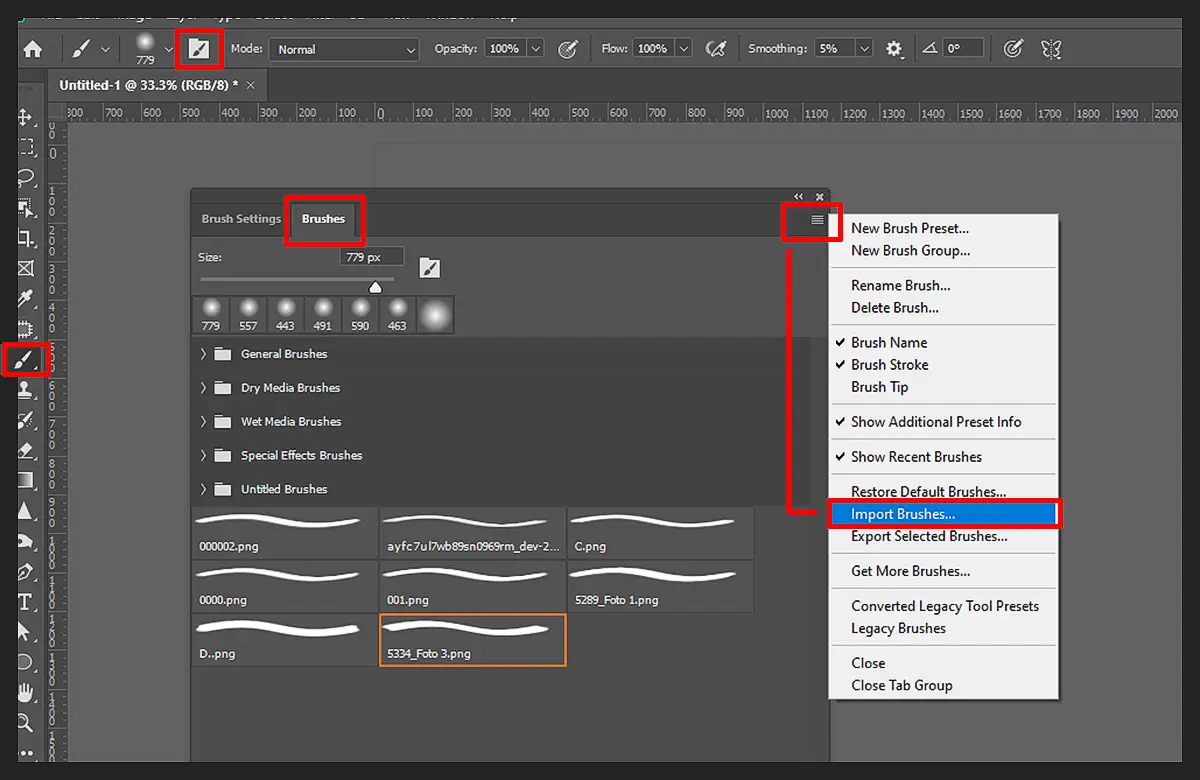 There's another way to do this if you skipped the first step, which is to go to the Brushes panel > Hamburger menu > 'Get More 'Brushes'. Here, you can install brush packs directly from Adobe or you can create your own brush sets. 
The second method is particularly useful if you haven't found a set you're satisfied with or if the set you're looking for hasn't ever been made. For example, as glossy blood brushes are common, you can create your own dried blood splatter brush.
Step 3 – Try out the New Brushes
Once you have your brushes installed, load a new image onto Photoshop and test them out.
Click on your desired brush once and drag your cursor on the document window to make strokes. 
To spot bad brushes, you need to look out for 'Glitching' effects, such as the brush cutting off during strokes. There should also be no pixelated or discolored edges. A good brush will run smoothly and look realistic to actual blood spills.
Your brushes are now all set to use.
How to Use Photoshop Blood Brush?
Other brushes in Photoshop are relatively easier to use in comparison to blood brushes. 
While other brushes just need to be dragged around to make strokes, a few swipes of a blood brush won't make much of a difference without making other adjustments. 
Here's how to use Photoshop blood brushes for maximum effect – 
Adjust Hue and Saturation
Depending on the content you're working on, it's highly likely that you will need to make all blood effects look as real as possible.
If your blood brush strokes look too cartoonish on your images, you can fix this by adjusting the hue and saturation. 
Deepen or darken the colors of the blood strokes if the image is dimly set or make the strokes brighter and more transparent if it's a well-lit setting. Other than this, you can also play around with the transparency and brightness toggles.
Try the Blurring Effect
For smudges and stains, adding a blurring effect can really bring your image together. 
First, put the blood brush strokes where you want them, then adjust the hue, saturation, and transparency to make them appear lighter. Then, blur the strokes to make them look like stains, smudges, prints, etc. 
Add Shadows/Reflections
Still, blood puddles or spills are tricky to edit as you have to edit shadows and reflections to make the splatters fit the rest of the image.
To ensure the blood splashes don't look out of place, you first need to assess the light sources in your image. This will make you understand which areas of the spill need more shadows and/or reflections. 
Read more: How to Edit Senior Photos Like a Pro in 6 Simple Steps?
Frequently Asked Questions on Blood Brushes for Photoshop
Following are the most commonly asked queries from beginners that you can take a look at to know every detail of this topic.
How do you make blood in Photoshop?
First, make an outline of where you want the blood to be. Select Edit, then Fill from the menu and fill in the outline with a burgundy color. Toggle the Color Burn option to blend in the blood layer and also toggle contrast. Or, to make things easy, load a royalty-free blood splash PNG onto your image. 
How do you make the blood look realistic in Photoshop?
Blood only looks realistic when the shadows and reflections are in cohesion with the rest of the image. So, be sure to test out different shadow, transparency, hue and saturation, and brightness settings until you are satisfied with the outcome. 
Is there a blending brush in Photoshop?
There is no blending brush available in Adobe Photoshop. However, the Brush tool, Mixer Brush, and Smudge tool can create the same effect. 
How do you download blood brushes for Photoshop?
You can download them from multiple sources online. However, it's best to stick to a reliable site, such as Adobe itself. 
Conclusion
Using blood brushes for Photoshop is as easy as using any other brush packs. However, the only catch is that you need to put in work for the splashes to look real. 
Hopefully, our guide has covered everything you need to know about these types of brush packs. Remember to safely browse brush sets before trying them out.
(Visited 22 times, 2 visits today)